STAR Workplace Program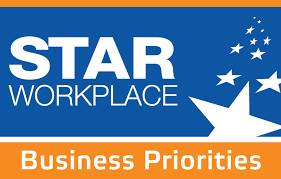 Is your team suffering from lack of engagement, low morale or poor productivity? STAR Workplace enables businesses to tap into the key drivers of employee performance and implement strategies to create high performing teams.
About the STAR Workplace Program
STAR Workplace is a business improvement program that helps you measure employee and employer alignment and set priorities and action plans in 3 easy steps:
Employer interview to measure your satisfaction with the overall effectiveness of your business and hr strategy;
Online, confidential surveys to get feedback from your employees about the business;
A comprehensive report and STAR rating so you can identify gaps in alignment and engagement levels and a comprehensive 12 month action plan to address key priorities for future business growth.
To learn more about how the STAR Workplace Program can help your business to improve employee engagement and overall performance, contact Warren Howard on 0417 594 760.